So here is something you haven't seen for a while on this blog.... cross stitching! Yes, I have actually picked up my needle and completed a little sampler. This is True Love Sampler by Stacy Nash.
As you can tell from the photo of the chart below I totally changed the colors on this one.
It all started when I chose that evenweave. It is 32 ct. and I hand-dyed it myself a while ago. I love that mottled rosy hue. As for the flosses they are all Anchor ones that were in my stash. Years ago I was quite fond of Anchor flosses. I used them a lot on Ewe & Eye & Friend pieces. I'm going to take this one to the framer this week.
And I released my Quaker Diamonds by Rosewood Manor from its ziploc bag. Oh it was fun to stitch on this for a change.
I am about 1/3 of the way finished on this. This little cartouche has space to add the year the sampler is complete. I'm not going to tempt fate by putting in 2013, but I's sure like to.
And did you see this latest release from Rosewood Manor?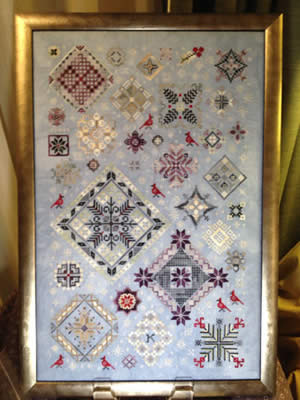 I can't wait to get my hands on this one.
So I'm hoping to get a bit more stitched done today and some sewing too. The quilt guild meeting is tomorrow night and I want to get the binding on my latest quilt for Show & Tell.
Hope you have a great week...happy stitching!
carol fun