So it appears that I can only manage one post a week... sorry... but in my defense last week found me to be extremely popular ... I had a lunch date every day last week... all were fun and tasty but I didn't get much accomplished otherwise.
No measurable knitting was finished... although I did buy some yarn...
I found this at my "big" Joanns... it is Superfine Merino a DK/Light Worsted ... it has 142 yds in a ball and it is super soft... it is also a bit pricey... $14.99 a ball... so of course this yarn can ONLY be purchased by me with a coupon... and I've lucked into several 50% off coupons. Now on Memorial Day I thought I was going to make out big time as I had 3 coupons for 60% off...except Joanns punked me as they marked this yarn down to $12.99 making my coupons useless...grrrr... this just makes me more determined to only buy this stuff with a coupon. OH I saw a great meme/t-shirt the other day ...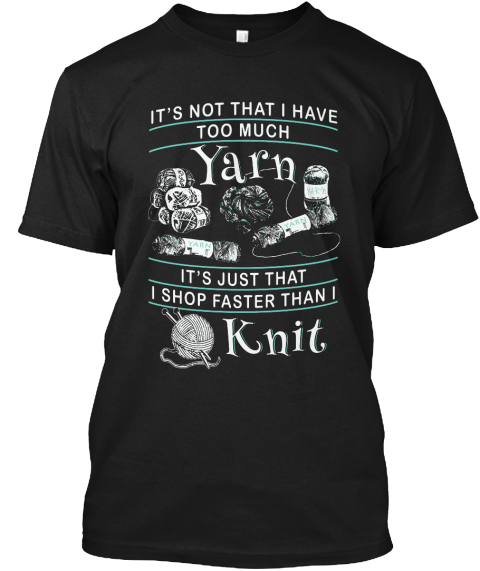 my situation EXACTLY...LOL!!
And fabric was purchased ... 2 jelly rolls and some bargain stuff from Instagram... but no sewing was done... insert frown-y face...
But there was progress on the cross stitching front... cross stitching is perfect for "watching" my beloved Reds play baseball... there were some good games, some great games, and so OMG terrible games... it softens the blow... LOL
First I want to show you a finished piece...now I finished this ages ago but I just recently got it framed and it looks great in my early summer decorating...
This is from the BBD Loose Feathers Abecedarian series... this was #3 and is called Forget me Not... my blue skeins were nice and bright and I love this piece....and here is how it looks in my living room.
I love that I've been able to incorporate several cross stitch pieces on these display shelves...
on the top shelf I have my latest small finish ... and in the middle there is my beloved Lizzie Kate Spring sampler....
and at the bottom I have Forget me Not and a nice stack of summer-y looking quilts... along with lots of birds... you know I have a thing for fowl right??? LOL
And this is what I've been cross stitching.... my Lizzie Kate Jingles piece...
last time I touched this was December of '16 and I only had 2 of the charts finished... I got two and a half done this week...
love the snowman and the cardinals... and the cute heart frame...
the stocking and the cookies are fun motifs and while I like those peppermints they were a bear to stitch... hard to fit in the white stitches after I had the red ones complete...but they are stinking cute!
and this one should be complete tonight... just a couple of simple motifs to finish... that would give me 5 of the 12 charts done...yeah... I would like to have this one wrapped up by the July... maybe not the beginning of July but before it is over... I know exactly where I'm going to hang this and it will be a nice addition to my Christmas decorating.
So while I'd like to do some sewing next week I'm not promising anything... the other project on my list is cleaning out my garage... and this week looks like it would be perfect for that... dry weather, not too hot and so far, other than a doctor visit for my son tomorrow, there is nothing on my social calendar ( oh that sounds so pretentious... snark)... there is stuff I want to take to Goodwill and stuff the just needs to be trashed. I have a shelving unit I want to assemble and organize my gardening stuff ...and I want to wipe down the shelves I have my grocery inventory on ( my older son teases me about my stockpile of toilet paper and boxed pasta, but if the zombies attack he'll be begging me for spaghetti and Charmin)... I figure if I say it outloud here on the blog that I'm going to clean out the garage I'll guilt myself into it... fingers crossed.
Hope you are having a nice Sunday...weather here has been sooooo nice... I love when the temps stay in the mid 70's to low 80's and the humidity isn't too high... that is perfect in my book. I've got dinner in the oven... a baked ziti dish with chicken and alfredo and lots of cheese... I'm making asparagus wrapped in prosciutto and a salad and rolls and a strawberry pie from Frisch's for dessert... can't wait till 6pm!
I'm linking up with
Kathy's Quilts
today and
Super Mom - No Cape
tomorrow...
happy stitching-
carol fun