Oh my goodness... I did it AGAIN... and why do I have that Brittney Spears song stuck in my head... I have AGAIN miscalculated on a Lizzie Kate long project. Remember when I miscounted the linen for the Jingles series... you can see my truncated version
here.
.. well I was super-duper, extra special careful when I cut the linen for the Lizzie Kate Boo series... I was NOT going to run out of linen again... BUT I ALMOST DID....ugh....
So here is how far I am today...
Moving right along... loving all those different fonts and images... when I arrived at the spooky house yesterday... and I thought to myself (note: thinking almost ALWAYS gets me into trouble...LOL)... it seems like I don't have enough linen left to do 4 more words and images... I should double check... and I did ...and I DON'T!!!! Now I have more linen than I showed in the picture above but not enough to do all the sections. This time I did cut enough linen but I misread the instructions about how to space the sections and I've been putting too many stitches between each section and that has eaten up stitches almost totally a full section... arggghhhh.... what to do... what to do????
Well here's my solution... I am going to leave out one section... the one that says Brew... I'm going to move up the Ghost section because there is a pattern where every other section has the image on the opposite side and I want to keep that going. I'll be able to do the little house which says Fright, follow by Ghost, followed by Monster...he's adorable and then finish with Halloween.
By the time I figured out my error I had the little house done...
it was reduced to a pile of fuzz...
and then relocated up several stitches and re-built. I sometimes wonder why I like counted cross stitch so much when I have so much trouble COUNTING...but I do... I really really do!!!
Here's a close-up of the sections I have finished since I last posted...
The buttons really add a lot.. I love the frog and the pumpkin will get button eyes like the owl.
And I want to get this finished by the end of the month because I saw this the other day and I HAVE to stitch it!!!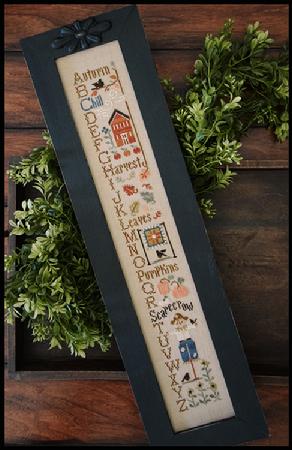 Another Little House Needlework Sampler...Autumn ABC's... I LOVE LOVE LOVE this one!!! Fall is my favorite season and this one is so cute... the pumpkins ..the scarecrow ...the quilt on the line. I'm assuming that she is going to do more like this to join this one that I already stitched...
I really love the style of these and framed they will fit right by my front door...which I can see from my stitching chair ...and enjoy all year round. I'd love a Winter version and a Spring version. I'll have my Lizzie Kate ones for Christmas and Halloween... and it is lovely to have a spot
where I can rotate seasonal pieces.
So I will stitch some more this evening... dinner is prepped and ready to be popped into the oven... meatballs and spaghetti is the menu for tonight. The weather is hot today but they are promising cooler temperatures next week... I am soooooo ready for Fall. My window boxes are getting raggedy and I want to pull out the petunias and replant them with mums and add some pumpkins. My bed of marigolds is sporting the perfect Fall shades of orange and yellow and I think they'll hang in there for a while still. I even have a few dahlias... my first time to try growing them...
That's my hand for size... its about 6 1/2" from palm to fingertip.and there are going to be 3 blooms on this single stalk ... and the color in real life is a deep burgundy red... I'll be looking for more dahlia tubers to plant next year. What wonderful Fall-ish addition to my garden.
Well I will link up with
Kathy's Quilts
today and
Super Mom - No Cape
on Monday. Hope you have a good week ahead of you... I've got a couple of things to do during the week and then something Friday, Saturday and Sunday... time flies by, doesn't it?
happy stitching-
carol fun