Hello again... another week whizzed by... I know I said I'd be back last Monday to show some quilting but ...well... I don't know what happened ...I didn't turn my machine on at all last week... maybe this week...no promises. We've had all kinds of weather this past week... hot... humid... dry... rainy... sunny...gray... I am pining for Fall...cool, low humidity Fall... it can't come soon enough.I LOVE FALL!!! it is my favorite season!!!
My window boxes are looking raggedy ...the petunias got leggy and the sweet potato vine is a bit droopy. From the street they look okay but up close not so much. I'm ready to pull it all out and decorate them for Fall. I've already decided that if I can get small pumpkins for the same price as a mum or decorative cabbage...and I think I can... I'm putting lots of pumpkins in the 3 smaller boxes that are high up... the beauty of this is that they won't have to be watered. I found out last year that it is hard to water the cabbages cause you can't hardly get the hose in under the leaves...live and learn. Next to petunias, mums are one of my favorite flowers ... I love all those Fall colors...and the weather...did I mention that before???? LOL
Sooooo you may be asking yourself how many days till Halloween? (we aren't even going to discuss Christmas yet, okay?) Well according to a countdown website I found there are 79 days left... plenty of time to do more Halloween stitching and right now I'm ALL about the Halloween stuff.
This week saw my butt in my stitching chair quite a bit and I finished the
Bent Creek Spooky Row..
.
It is really neon green in real life... in the evening it looked more minty green but in natural light it lives up to its neon label. I played chicken with the gray floss for the letters... only had a 6" piece left when I got done...
I'm going to frog the ruff around the vulture's neck... it is a cranberry red and is too close in value to the black... that shouldn't take too long. I think this is going to hang in my back hallway.
And since I finished that piece I broke out my Lizzie Kate ABC Halloween... got the first line done... 11 more to go...
And here's how the whole piece of linen looks...
I painted a new piece of linen for this as I thought the first piece I did was too busy... I like this better.
This chart came as a kit with the called for Crescent Colors and some DMC... and they are pretty but they didn't look good with my painted linen. So I took my chart and my linen to Michael's and picked out DMC colors that I like... a nice dark orange 720 and a light orange 722 and a funky green 581 and a purply purple 333... I traded the beige they called for ...3042... for a yellow 726...and I think I'll change the 3848 turquoise for 3812 turquoise.
I purchased this kit around the time Lizzie Kate announced her retirement... I read on her blog that she is going to continue for a bit with the kits of these in collaboration with 123 Stitch...
here is a link
to that listing... if you are interested let them know.
And if this isn't enough Halloween stuff...along with the stuff I mentioned last week I got this chart yesterday from Stoney Creek...Halloween Moon ...you can see it
here
...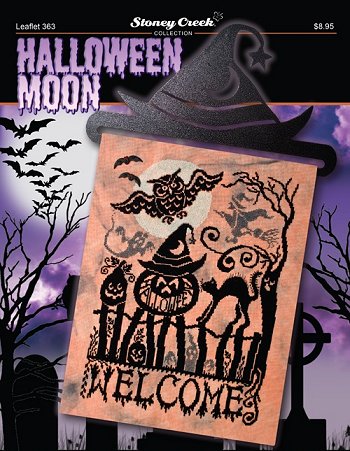 This is a big chart... 207 high by 150 wide.... on 32 ct that 13" x 9.5"... a LOT of Halloween... What drew me to this is the pumpkin that says Halloween with its teeth... I do like the ghosts and the owl over the moon but I think that all I'm going to stitch is the big pumpkin...he's 70 x 60 so that would be about 4.5" x 3.75"... that will do ... and I think I may have enough of the orange fabric with the bruises left to do it. Keep my fingers crossed... I did whack off a piece to give to a friend...but I can always dye more.
Well there may be some more stitching time tonight after dinner. I'm having my son and DIL for the first time in weeks... they've had a ton of things going on so I enticed them over with prime rib... who can resist prime rib??? Not anyone in my family...LOL... the meat is in the oven but my remote meat thermometer isn't behaving... I keep having to check on it with my instant read thermometer... which defeats the purpose of the remote one that is suppose to alert you when the meat has reached the proper temperature...oh well... I use my 20% coupon at Bed Bath & Beyond and get a new one.
I got a bunch of little things on my calendar for next week...pick up a quilt...take my son for an appointment...get the oil changed in my car... dinner with my quilty friends... if Mother Nature helps me out and rains a bit perhaps I can skip a night or two of watering and get in more stitching time... cross your fingers...
I'm linking up with
Kathy's Quilts
today...and if I get some sewing done tomorrow maybe their will be a post then...hope you have a good week ahead!
happy stitching-
carol fun